NEWS
HOW MODEL STELLA MAXWELL PREPS FOR A DATE NIGHT
If we could pick any sultry siren to emulate for date night, it's New Zealand model, Victoria's Secret angel, partner of Kristen Stewart, and new face of Karl Lagerfeld + ModelCo Limited Edition Collectable Beauty, Stella Maxwell.  Coveteur.com recently caught up with the multi-hyphenate in her hotel bathroom at SoHo Grand to see her go-to makeup moves when she's headed out for a night on the town.
What is your ideal going-out night, whether it's a date or with friends?
"Most of the time I keep it very relaxed and casual. I just hang out with my friends and go out and have dinner. Not too late, because I'm usually pretty jet-lagged depending on where I've flown in from. Generally, I just love to go out to dinner; it's one of my favorite things to do. I think it really brings people together. Also, just doing a night hike with friends is a really nice way to spend your night. You get to chat with your friends, you get to hang out, and you're still getting some fresh air and some exercise."
When you're going out to dinner, how do you do your makeup differently for evening?
"During the day I would use some concealer, a contour. ModelCo has a really amazing sheen highlighter—I'm all about dewy skin. If you're going to do a night look, I really love to do a bold, red lip. It makes you feel really confident, especially if you're going out with your friends, and it can really just change your whole attitude on the night. A red lip is just really sexy to me. I love a complete red, like a red, red lip. If I wasn't doing that, I would go for an aubergine, purple-black red. It's either that or a cat eye. I'm a huge fan of a winged cat eye. It gives you defined features, and you can be kind of bolder at night."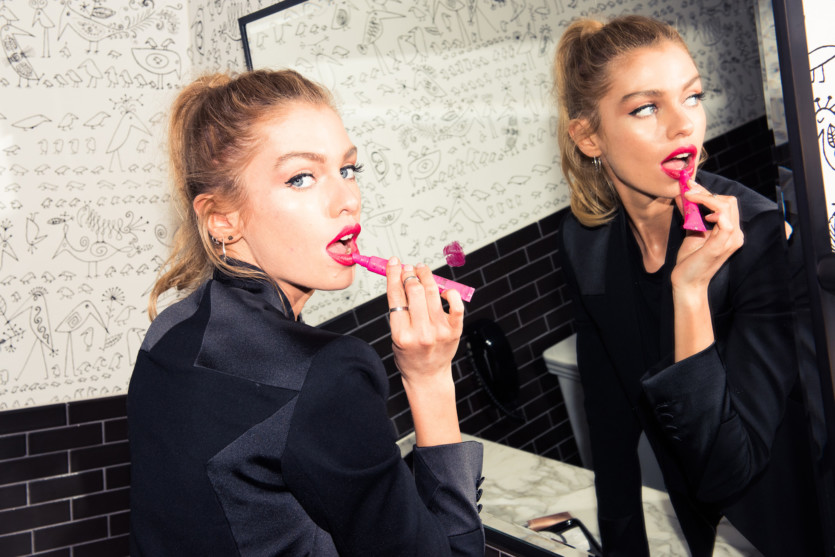 Stella wears  ModelCo Lip Plumper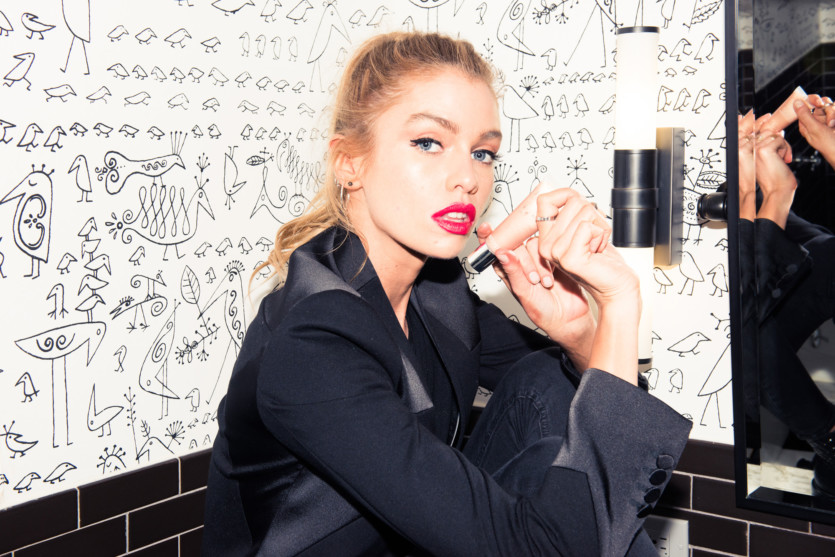 Stella wears Luminosity Skin Highlighter
How did you teach yourself to do liquid liner?
"I have not always been good at it. With my job, I've been lucky enough to see professional, amazing makeup artists do my makeup pretty regularly. If you use the perfect product, like the Karl Lagerfeld Liquid Liner, it's really easy to use. It's smooth, it goes on really easy, [and] you can do nice lines. I definitely think it takes a little practice—it's an art form."
Do you do anything special for your skin?
"I always make sure my skin is nicely prepped, using more natural products like coconut oil or aloe vera as a moisturizing mask. I always buy a leaf from a health food store. [Inside the leaf] it's like a gel, and you just put it on, and you can sleep with it. It's just a nice, natural remedy. I think a lot of what good makeup is about is having a really nicely prepped face. I've learned over the years of being a model, if you spend as much time looking after your skin, eating well, sleeping well, and drinking a lot of water, it really benefits how makeup sits on you. Your skin quality is key."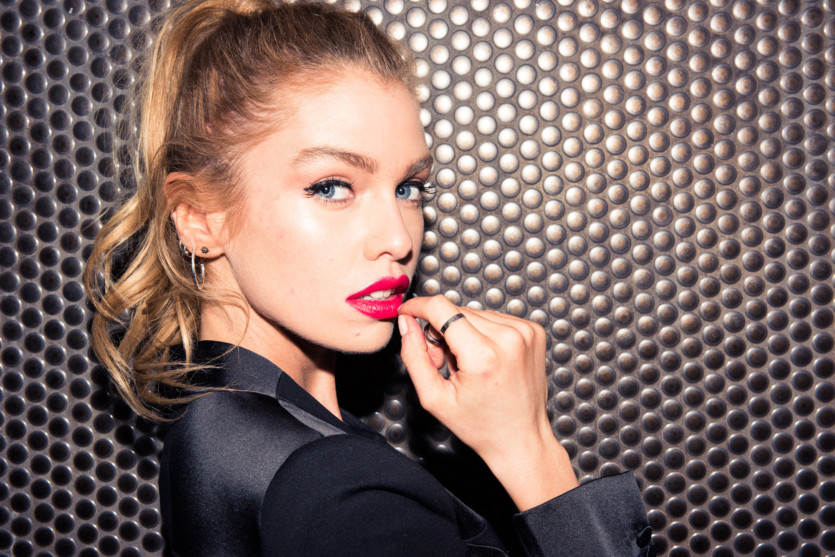 Stella wears Karl Lagerfeld + ModelCo Long Lasting Liquid Liner $22.00  and  Intense Black Volumising Mascara $28.00
How do you like to do your hair when you're going out?
"During the day I don't do much with my hair, because through work I have a lot of irons in it and hot hair dryers on it. So I try to leave it alone during the day and let it air-dry naturally. But it's always nice to change it up and do a nice high pony. I always pull out little pieces, because I don't want my hair to be too tight. But I think it's a nice look to go out."
What hair products do you love?
"Bumble and bumble, and Oribe—they [both] have a really good scent. I'm a huge fan of a nice scent to a product, especially if you're having it on your body for the whole day. Some products can be too weak or too strong. Bumble and bumble Tonic gives me a nice texture. I've had it used on me for work, so you kind of pick up on your favorite things as you go along in your career. I love all the Oribe products like their dry shampoos."
What fragrance do you like to wear when you go out?
"Victoria's Secret has Bombshell that I wear a lot, which is more of an OG perfume that I like from being around them for a while. And it's a classic; I feel like people know that scent really well when you wear it. Margiela has a really nice fragrance called Untitled. I got it a long time ago. It smells so good."
Have you always been into beauty?
"As a teenager, I was a fan of eyeliner and just experimenting, because makeup is fun. It's there to use as a tool to express yourself as you grow up. I think it's a fun way to play around, and you can really feel liberated and set yourself apart if you want. You can do the same with your hair. And obviously a fresh face is beautiful, too. It's really nice to have no makeup and stay more casual and clean. But I do think it's fun to spice it up with makeup and be more bold."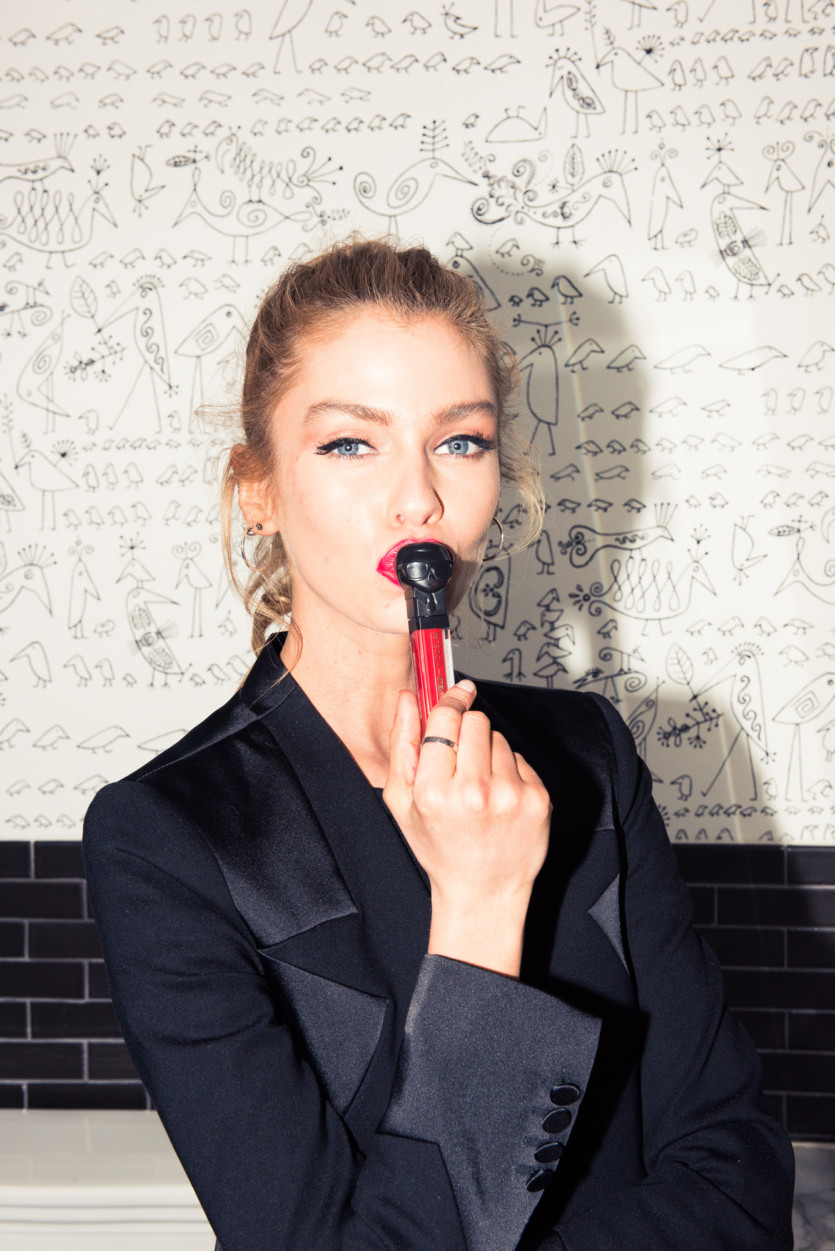 Stella wears Karl Lagerfeld + ModelCo Lip Lights Liquid Matte Lipstick in Iconic Red $28.00